Plan for the Unexpected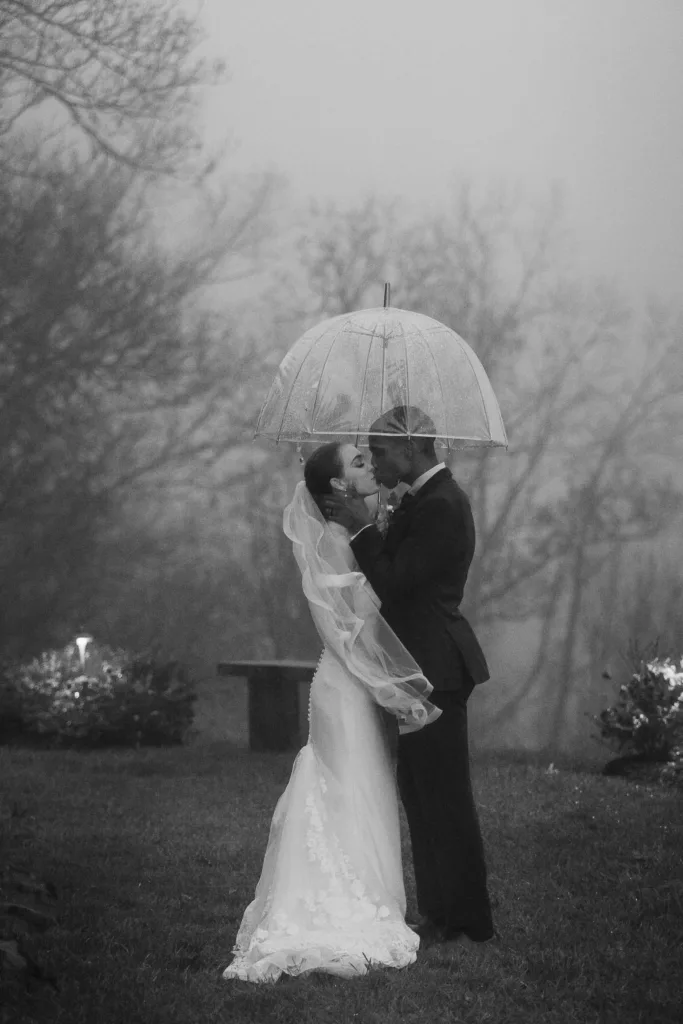 Asheville, North Carolina is a beautiful location for a wedding, unfortunately, the weather doesn't always cooperate. If you're planning an outdoor wedding in Asheville (or anywhere that receives a lot of rain), it's important to have a plan in case of rain.
In this guide, we'll provide tips on how to plan for a rainy wedding day. Also, we'll cover why hiring an experienced Asheville wedding photographer is crucial for capturing memories of your special day.
How to prepare
1. Have a Rain Plan
The best thing you can do when planning an outdoor wedding in Asheville is to have a rain plan. Whether it's a tent or an indoor venue, make sure you have a backup plan in case of rain. Work with your venue and wedding planner to come up with a plan. They can help create ideas to keep your guests dry and comfortable.
2. Rent a Tent
If you're planning an outdoor wedding, renting a tent is a great option. It ensure that your wedding goes on, rain or shine. Make sure to rent a tent that's large enough to accommodate all of your guests. Also, one that has sides that can be closed in case of wind or heavy rain.
3. Provide Umbrellas
Providing umbrellas for your guests is a thoughtful gesture that can also keep them dry during a rainy wedding. You can rent umbrellas or purchase them in bulk, and place them in an open area. The wedding couple should use a clear umbrella so that your wedding photographer can see you!
4. Adjust Your Timeline
If you're planning an outdoor ceremony or reception, it may be necessary to adjust your timeline in case of rain. I.e. if you were planning on a cocktail hour outside, you might need to move it indoors. Work with your wedding planner and venue to adjust your timeline as needed.
Also, look at the seasonal trends in the area – does it tend to rain more in the afternoon? This gives you the option of either holding a morning ceremony or having an early evening wedding. This way you can party once those summer thunderstorms have (potentially) rolled through.
5. Hire an Experienced Wedding Photographer
An experienced Asheville wedding photographer is crucial for capturing the memories of your special day, rain or shine. They can work with you to create a plan that will ensure you still get beautiful photos, even if it's pouring outside. Their expertise can find creative ways to incorporate rain into your photos, creating unique and memorable images. Natasha Dale Photography has photographed many rainy weddings and would love to hear from you!
One cloudy day common misconception is that you can shoot at any angle and get magnificent photos. Yes, it is true that the overall look will be more dramatic and mysterious, you won't have deep shadows (raccoon eyes), synonymous with harsh light. However, you should keep in mind directing light onto the face is still important. How else will you capture beautiful catchlights that elevate a photo from a 'picture' to a 'portrait'. Having a professional Photographer can help by utilizing tools designed to bring light to the face and turn those cloudy day photos into something spectacular.
6. Footwear
When planning a wedding in Asheville, one of the most important decisions you'll make is choosing the right footwear. You'll want to find shoes that are not only stylish and comfortable but appropriate for the rugged terrain and weather, especially if you're planning an elopement in the mountains. Save the fancy shoes for the photos and bring along a sturdy pair to wear to/from the elopement location.
7. Expect beautiful photos
Say what? Yep….it's Mother Nature's way of gifting you a glorious soft-box on your wedding day, resulting in ethereal and romantic photos. Some of my favorite Asheville wedding galleries have been when we've been caught in the rain and/or planned ahead for rain that will occur on their day.
If rain is expected on your wedding day, don't give up hope. You'll have dramatic photos that are yearning to be turned into wall art and an heirloom to pass on to future generations.
In conclusion
While rain on your wedding day can be a disappointment, it doesn't have to ruin your special day. Whether it's a luxury Asheville wedding or a simple elopement to the Blue Ridge Mountains, having a rain plan is crucial. Working with your experienced Asheville wedding photographer, you can ensure your wedding is a success and that you'll have beautiful memories to cherish for years to come.