Make time for bridal & groom portraits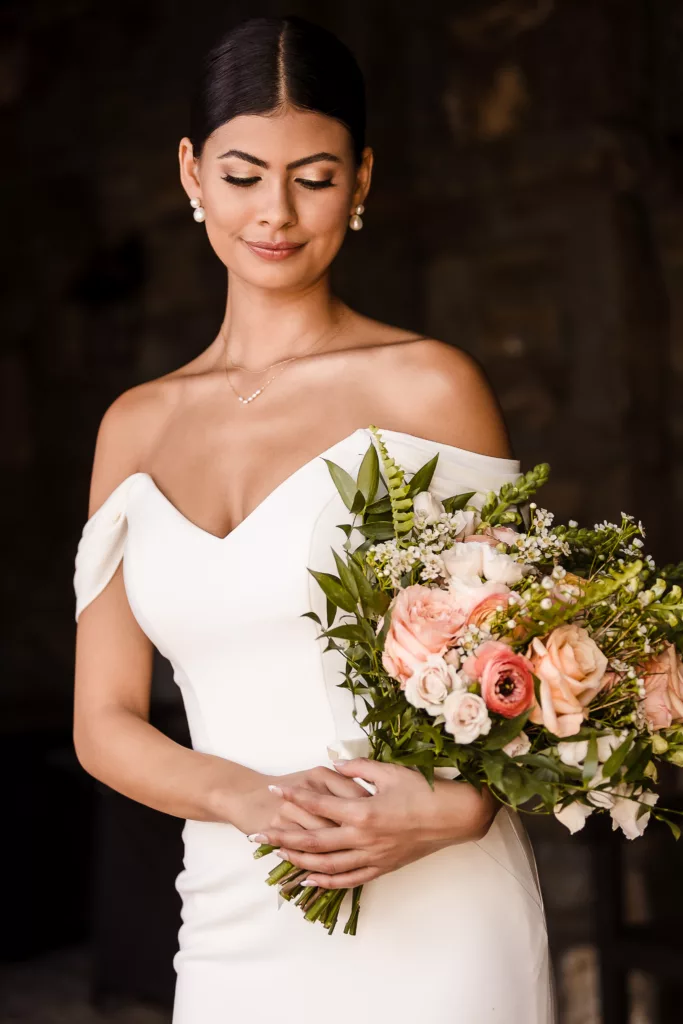 We only want candids
You're intent on hiring a "photo-journalistic" style photographer for your wedding. Why? Because they can capture "candids" throughout your fabulous day and won't ask you to pose for the camera. You won't have to think about feeling awkward in front of the camera and can just "be yourself". Awesome, right?
Maybe, maybe not. There are pro's and con's (purely subjective in my evaluation as a photographer) and I'll explain why!
But we feel awkward….
Let's face it, we all can feel a little (or a lot) awkward in front of the camera. I mean, it's unnatural! Unless you're a movie star or a model, you're not used to someone photographing you for an entire day.
Therefore, the thought of hiring a photographer who will only capture natural, emotional moments is appealing and that's why you're set on this style. But…..what if I told you that you are under-selling yourself and that you deserve more?
As an Asheville wedding photographer, I am here to tell you that you deserve to have beautiful wall art of YOU looking gorgeous! Photos that are taken with intent and will ensure that you'll fall in love with your wedding day over and over, every single time that you look through your gallery.
"Candids" have a time and a place and are an essential piece of wedding day coverage. Such as the "first look" below.
Don't undersell yourself!
The purpose of candid shots is to capture moments in time that require little assistance from the photographer. The ceremony, the hugs, the tears and the dancing! Those are all times that should be captured authentically and photo-journalistically.

However, their role is limited when it comes to creating bridal or groom portraits. Yes, it can be possible to capture wonderful portraits without any guidance or detailed curation from the photographer, but the amazing bridal shots that you see in magazines, are usually not a happy accident!
In my experience, the initial reason why women choose to not have bridal portraits of themselves is because they underestimate themselves and think that bridal portraits are only for 'models'. I'm here to dispel that myth! Every single bride that I meet has her own beauty and you deserve to have a photo of you. My job is to empower you and give you photos (and an experience) that will uplift you and show your inner goddess.
Faux candids
There are times throughout the day where we will capture "faux candids". These are shots that have the look and feel of a moment caught in time but have had a little guiding help (such as the groom shot above). Then there are the carefully tailored portraits designed intentionally to capture everything in the scene well: the background, the lighting, the person!
This is an area that many brides (and grooms) feel self-conscious about. We'll talk through any concerns that you might have and then have fun creating magazine-worthy imagery! Photos that you can cherish for an eternity.
The great thing when you book with me? It's already included in the cost. All that we need to do is to factor in time! Rushed portraits rarely give us the show-stopping results that we desire. Physically you might be there in the scene but mentally, your mind is elsewhere. It's all about being 'present' on your day and taking time to celebrate you!

This style of photography is not just for the romantic at heart but it makes for a wonderful heirloom to pass onto future generations. It's a beautiful way to say "This was me, on my wedding day, looking like a million dollars!"
How much time?
In terms of carving out time for photos of this genre on your special day, I recommend at least 45-60 minutes per person (bride/groom etc) for a wedding. If it's an elopement (shorter time), then it might just be 5-10 minutes that we have but we'll make it work! The longer the time that we have, permits me to capture meaningful, directed photography.
Will you feel self-conscious & awkward? Possibly…at first. That's where the beauty of time comes in and I can show you how amazing you look on the back of my screen. The magic happens when working with a photographer who is comfortable with people and creating editorially inspired images. I understand that we're people with real insecurities, myself included and I promise not to dismiss your concerns.
As a woman, scratch that, as a human, I know about feeling insecure and the anxiety that can come from having a photograph taken. I also understand that stylistic lighting and knowledge of angle/lens/height are all key components. It's a collaborative venture of course and there would be no magic without the bride or groom's involvement and love for the experience!
Engagement shoot
In an ideal world, we will have an engagement photography session, so that you can become familiar with my style. During the "stylized" part of the day, I will give you constant guidance. Where should you place your hands, where should you look, how should you stand? I will help find the most flattering and gorgeous looks, just for you. Everyone is different and that's the beauty of beauty shots! They're as unique as you are.

In conclusion
I want you to feel special because you are. Nothing makes my heart sing more than giving people pictures of themselves looking fine as heck! Many people miss out on gorgeously curated photos from their wedding day (myself included at my wedding!), which is why it's important for me to capture this style of portraiture.
If you're eternally romantic, get in touch with me, I'd love to hear from you. Let's create some photography magic together!
Email: natasha@natashadalephotography.com