Estimated reading time: 15 minutes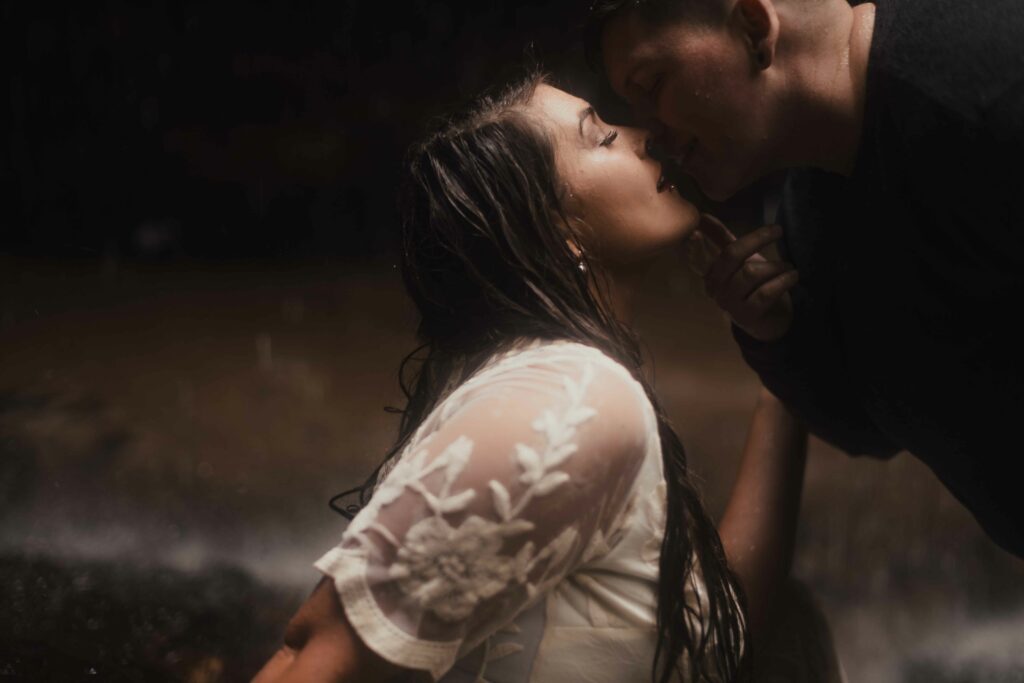 You've started planning your engagement session – great!
Firstly, this article is for guidance only (I get asked about what to wear to engagement photography – a lot)! Everyone is unique and should wear what makes them happy, this should be your only goal.
If on the other hand, you really want to go 'all out' ….then read below.
Disclaimer over!
I realize that preparing for your engagement session can be a little overwhelming. Here, I'll provide tips for outfits, handling nerves and recommendations that will make your shoot the best that it can possibly be!
The basics & what to bring
First let's cover the basics
POCKETS | Empty your pockets! You don't want to have key chains or phones showing through your pockets. This is easy to overlook but can be hard for the photographer to edit out.
Try to leave as much behind as you can. If you need to bring along a lot of extra stuff, then bring a big bag that can easily hold all of your 'stuff' and remain in sight for safety reasons.
TIMING | The sun sets quickly especially if your shoot is not in the summer months. The later that you arrive, the less time that you have to shoot!
Your photographer will have set aside a specific amount of time and no doubt timed it perfectly for the golden hour (whether that's in the morning or the evening).
Arrive on-time (or early), otherwise risk receiving fewer photos than your photographer had planned for you. Plus, who wants to have an argument over traffic and why you were running late. You see my logic? Arrive early!
RING CLEANING | If possible, it is ideal to clean your ring before your photoshoot. I love to shoot a few macro shots of your ring while you change outfits or before the session begins! The cleaner the better, it sparkles more.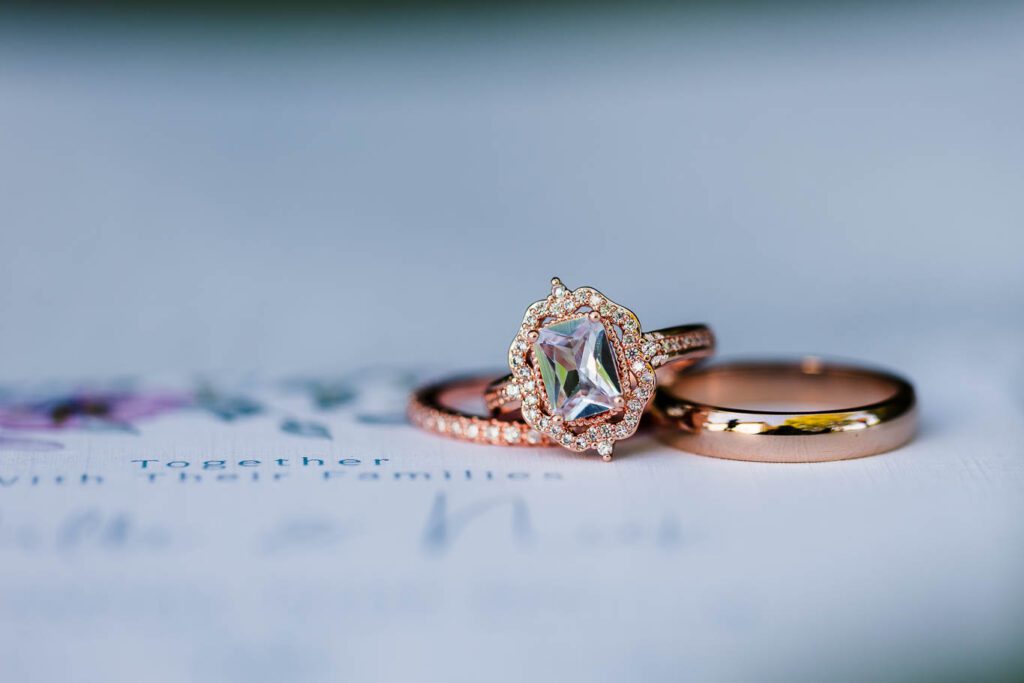 DEEP BREATHS | Remember that this is a time to enjoy, no-one is scrutinizing you.
Your photographer will help you, we don't expect you to be professional models! Enjoy this time together, and make a date out of it. Plan dinner afterwards and celebrate!!
Also, take this opportunity to have a 'test run' of hair and make-up that you are considering for your wedding. What better way to try it out than having professional photos taken at your engagement shoot?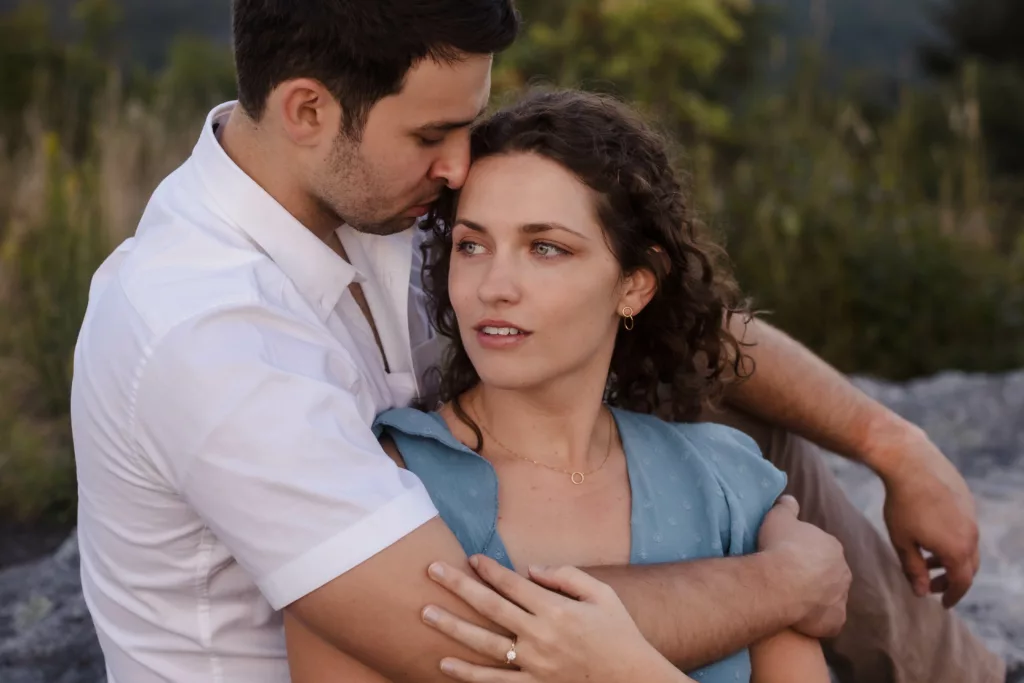 PARKING FEE | This may not apply to your shoot, but you always want to plan in advance for a cash-only parking fee that you may encounter or any tolls.
If you choose somewhere that requires a parking App , be prepared. Try and download the App in advance. Also, add in more time than you think you might need….a few extra dollars is worth a lot more than cutting a session short or worse…you have an amazing session only to return to a towed car. Pay the extra $.
Ditto: fill up your car with gas! You never know when you might hit a road block (literally or figuratively). In the mountains during winter we can find unexpected road closures. One moment a portion of road is open and the next it's closed, meaning that you might have a 40 mile detour to get to the next scenic location or to exit.
Be prepared!
CLOTHING | I'll explain this more in-depth below but generally, couples like to bring one casual outfit and one dressier outfit.
If you're unsure about a few pieces, feel free to bring all options, or email your photographer beforehand. If you want to change outfits, ask them what options are available to you. Usually, a downtown shoot will provide you with more options of changing outfits than out in nature.
You also might need to take into account the physical environment. How adventurous is your photoshoot? Bring dry clothes and shoes. A pair of warm, fluffy socks is always soooo welcome in the winter! On that note…if you are having an engagement shoot in the snow or cold, consider hand & foot warmers (you can buy eco-friendly versions).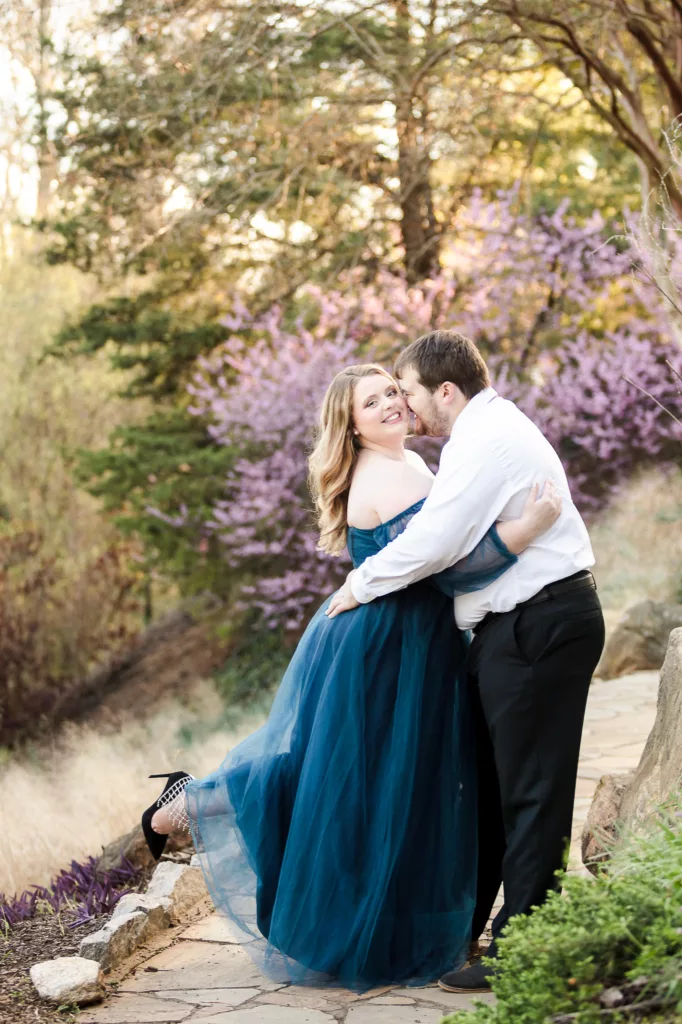 MAKE UP & HAIR | You may need to apply more lip color after one outfit change and a few kisses. (If you have a bold lip color, try to have a matte finish so it won't transfer as intensely!).
Hairspray and a brush will be helpful if your hair struggles in the humidity.
Also, the camera 'eats' makeup like nobody's business – feel free to create a heavier smokier eye (and extra lashes) than you usually might opt for. Otherwise, you could look makeup free….unless that's your goal.
In my (very humble) opinion, the focus should be more on the eyes than on the lips. The eyes speak to the camera – they're more impactful; concentrate on eyes and opt for a more neutral lip.
FOOTWEAR | If you're wearing shoes that are difficult to walk in but look awesome, bring some comfy shoes to change into while you walk to each shooting location! Flip flops are not the best shoe option for hiking, better to take along a pair of sneakers that can be slipped on or off and make sure that they have a good grip.
Outfits and styling
While I talk about clothing here…the best accessory that you can wear is a smile and the love that you have for each other. As cliche as that might sound, it's 100% true!
Believe it or not, you have so much control over the outcome of your shoot and what it looks and feels like! With a little education, you will be able to determine the style for your shoot.
Let's start by debunking some very common outfit myths that a lot of people believe about what they should wear to their session!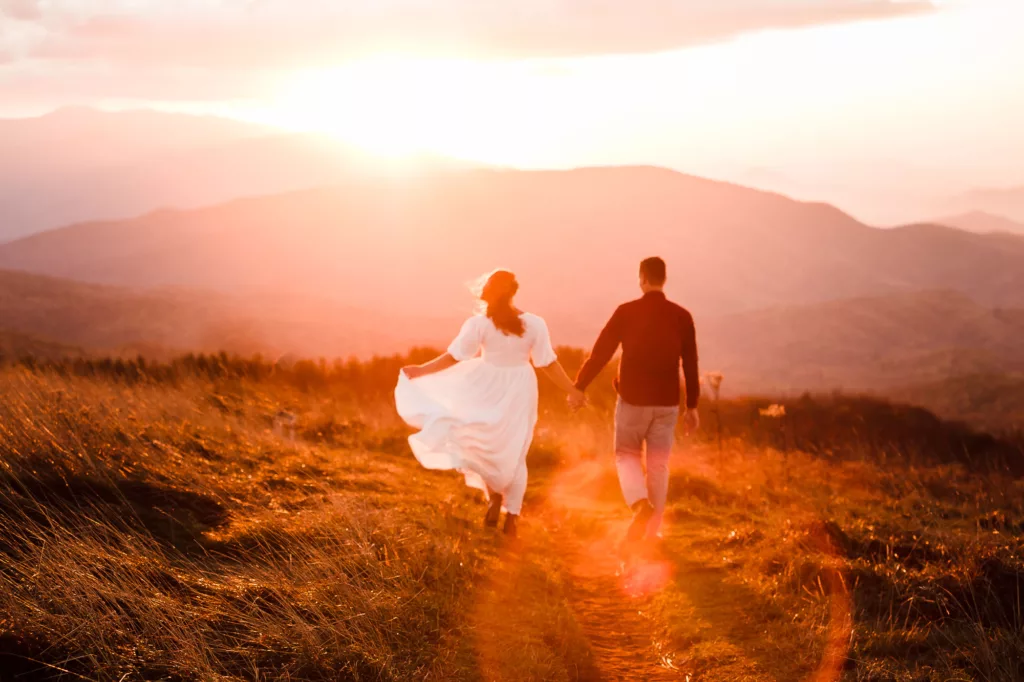 1. MYTH ONE: Avoid neutrals, they wash you out!
Whoever started this myth couldn't have been further from the truth. There are some colors that don't work for some people, but for the majority of people, they look amazing in neutrals and those colors shouldn't be avoided.
The truth is, neutrals are the most photogenic color for portraits.
2. MYTH TWO: Wear clothes to make you appear slimmer
I feel that it's important to celebrate everyone and every shape and size. I don't recommend certain colors or shapes to achieve a 'slimming effect'.
We've all been bombarded by media messages that say we should conform to this or that ideal and this is not the approach that I take. I do, however, want you to look your best and when you see yourself captured on camera love the person that is looking at back at you.
Choose happy! You'll never catch me recommending black or navy to 'slim you' but if you love those colors – go for it.
Let's celebrate you – the heart, the soul, the human and choose clothes that will flatter you and your style. There is nothing wrong with black, but if deep down you're hoping for light and airy portraits, it might not be the best choice.
3. MYTH THREE: You need to match!
Please don't try to match your significant other. Instead, try to coordinate!
Coordinating is a completely different concept than "matching." Coordination means you are usually choosing different colors that look good together but are not close to being the same. I have some more tips about this concept further below.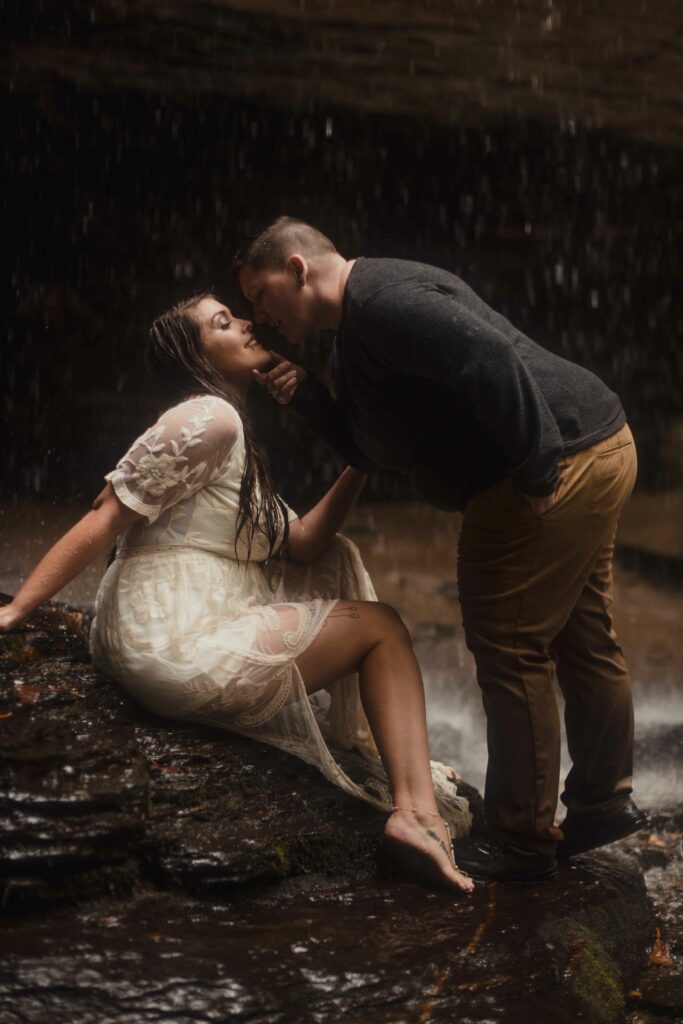 4. MYTH FOUR: Your location determines your style more than your outfit!
Nope! Your outfit has way more impact than your location. Your location is just a setting in the background but you two will still be the main focus of the images.
If you want light, airy and an overall romantic look to your photos, you should wear lighter, more neutral colors to achieve this look!
5. MYTH FIVE : You have to buy something new!
False! If you know you look awesome in an outfit that you already have and it fits the style you want for your engagement session, that would be a great choice!
However, if you want something fresh that no-one has ever seen you wear before then go for it!
What style do you prefer?
BOLD or NEUTRAL?
DRESSY or CASUAL?
CLASSIC or TRENDY?
These choices represent the three main decisions you will have to make in regards to your outfit choices. There are no right or wrong answers! Maybe you want one outfit to be dressy and the other to be a little more casual?
Perhaps you want one outfit to be very light and neutral but you want to wear more color in the next outfit? These categories will hopefully help you determine what you're hoping for from your engagement session.
If you're feeling stuck and can't seem to determine what you prefer, that's completely OK. Contact your photographer or look online for inspiration: remember to take into account the location and the time of year.
1. Colors that I do not generally recommend: neons and bright oranges (they can do funky things to skin color).
2. Avoid patterns smaller than a quarter: Tiny patterns cause something called "Chromatic Aberration" in digital images. Men's checkered shirts are fine if the "checks" are on the larger side.
3. Alternate Heaviness: If one of you is wearing very dark jeans, the other may want to wear lighter pants. If one of you is wearing a navy top, the other shouldn't wear a dark/heavy-colored top. To a certain degree, alternating the "heaviness" of your outfits can make your images look more balanced.
4. Avoid one of you being casual while the other is more dressy: This can look appear a little unbalanced in photos.
5. Other things to avoid if you are seeking a 'classic look': tennis shoes, graphic tees, bold logos on shirts, sunglasses & baseball hats. Try to ditch the baseball cap for the engagement session or leave hat wearing until the end.
ROMANTIC STYLE
If you're hoping for a more romantic style of shoot that includes "light" and "airy" colors, you can actually make outfit choices that will allow your images to turn out brighter, softer, and extra photogenic!
Here are some ingredients that go into creating a romantic-styled shoot.
It's important to note that you do not need to choose all of these ingredients in order to have a light and airy style to your images but the more ingredients you include, the more romantic and bright your images will be:
– Neutral Colors: Blushes, tans, light pinks, faint blues and light minty teals, creams, grays and whites will always result in more of a light and airy look in your images. These colors photograph softer and more romantically, they are perfect for spring and summer.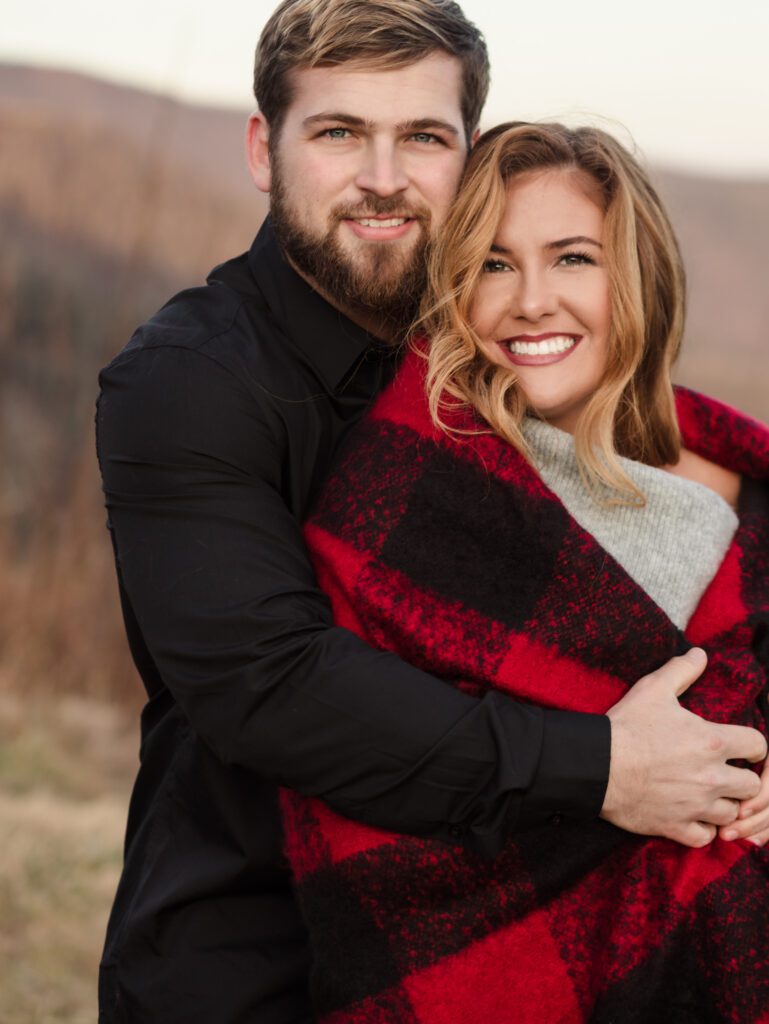 – Long, Flowy Skirts/Dresses: Dresses and skirts with feminine ruffles, multiple layers of fabric and the ability to blow and move in the wind will always photograph beautifully!
You would be amazed at how impactful moving fabric softens an image. Dresses with slits give a beautiful flowy motion when a breeze whips along. If the dress is flowy at the bottom, try to find a dress that has the bodice/top par fitted: so that we can see your beautiful shape.
– Khakis vs. Jeans: If you want your images to be as bright as possible, consider khakis/light denim over dark jeans.
BRIGHT & BOLD STYLE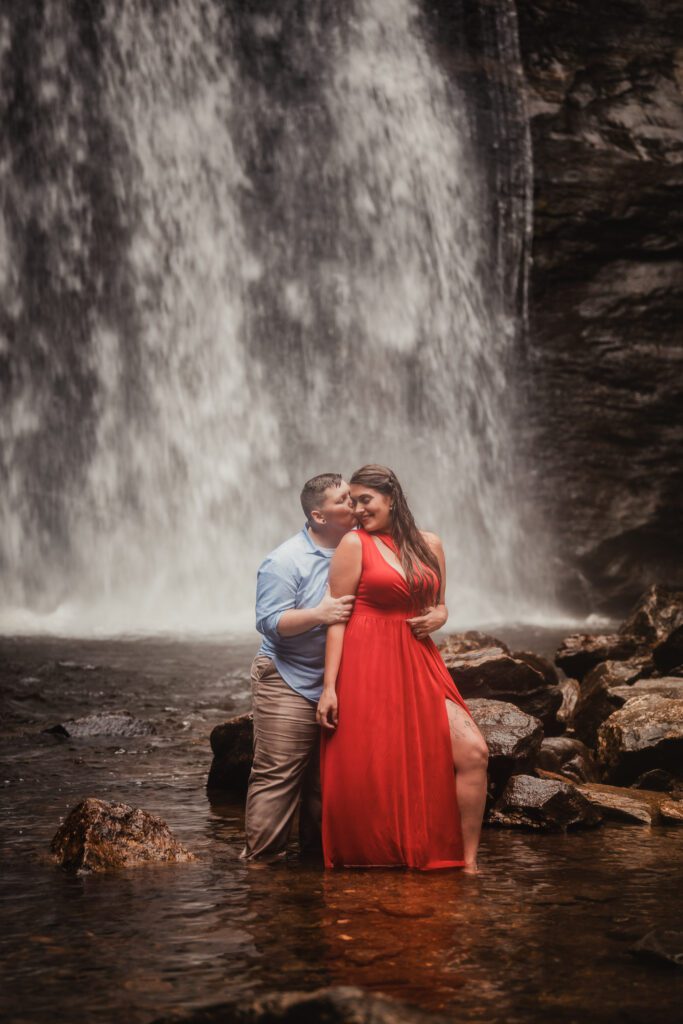 Just like the "Romantic" recipe, you don't have to apply all of these "ingredients" to get a perfectly BRIGHT & BOLD look to your engagement session. These ingredients include:
– Only One Wears a Pattern: If one of you has a bold pattern, it's very important that the other doesn't. The bolder the pattern, the more important this rule becomes!
– Bold Backgrounds: A lot of time, if my couples are going for a bold and bright look, I will look for solid colored backgrounds to use for part of their engagement session! It's a double win if the background coordinates with their outfits!
– Only One Bold Color: If you really want a bold and bright look but you want to do it well and tastefully, I would suggest that only one wears a bright and bold outfit and the other stays in a solid neutral to avoid overdoing it!
– Large Patterns are Preferred: If you really want to wear a pattern, my only request is that your pattern is on the larger side. Patterns that are smaller than a quarter can be difficult to photograph. This isn't true of all patterns but it's a good general rule to go by!
– Consider Muting your Favorite Color: If you love a certain bold color and you want to include it in your outfit selection, I would recommend selecting a muted tone of this favorite color. For example, if you love purple, get the purple vibes through a lavender or periwinkle.
ENGAGEMENT SESSION: Approximate start times
Remember to take into account the different start times at varying times of the year. The summer months give us longer days and therefore, a later start. Whereas in the middle of winter, you'll probably need to start photographing by about 3pm.
If you've chosen a photographer who specializes in weddings, chances are that they are busy at weekends and can only make midweek shoots.
LOCATION, LOCATION, LOCATION?
So where should you have your photos taken? I always advise my couples to choose somewhere that is meaningful to them or where they will feel most relaxed.
As an Asheville, North Carolina based photographer, there are an abundance of beautiful mountains and waterfalls to choose from. The majestic beauty that places like Looking Glass Falls in Brevard (about 45 minutes from Asheville, NC) or Roan Mountain (on the border with TN and about 90 minutes from Asheville) are undeniable.
When to go? As an engagement photographer, 90% of my sessions are midweek, as will be the case for most busy wedding photographers. But this works out beautifully for couples, in that you'll find yourself facing less crowds! If you're traveling to a destination for the weekend, make a longer trip out of it and stay the Sunday night. You'll face less crowds if you are visiting a tourist hotspot (think national park, grand house, museum etc) by having your photos taken during the week.
IS A PERMIT REQUIRED?
Verify with your photographer whether your chosen location requires a permit or not. You don't want to spend all of that time and money only to find out that you cannot take photographs at your chosen venue.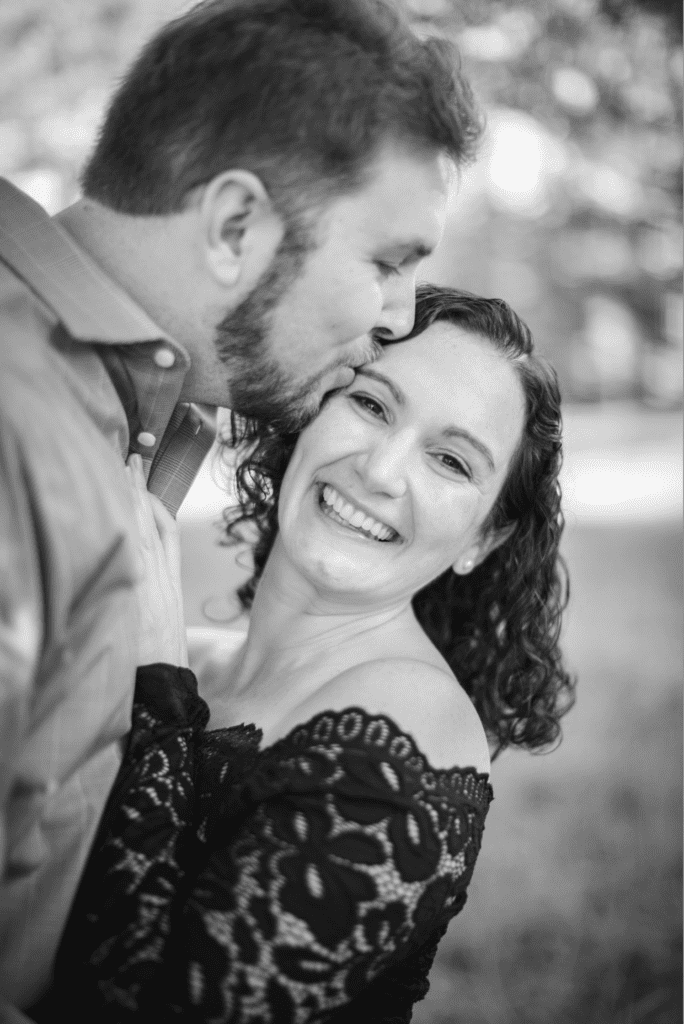 WE'VE NEVER HAD PROFESSIONAL PHOTOGRAPHY BEFORE – WE'RE AWKARD – WHAT SHOULD WE DO?
If you have chosen a seasoned wedding, elopement, engagement or adventure couples photographer, fear not, they will help you immensely. A good 99% of people feel exactly the same way as you do – awkward in front of the lens. Even me, scratch that, ESPECIALLY ME!
Experienced photographers will talk and guide you through all of the moments, giving hints & hints for movement to make it authentic and to find your most flattering angles. Just bring your love for each other and 50% of the work has been done already.
Additionally, professional photographers have a whole host of tips and tricks up their sleeves to make your session dynamic and as natural looking as possible.
An engagement session should be fun. Gone are the days of 'stiff poses'..today's sessions have much more movement & involvement with the couple.
I like to think of myself as a Director rather than a Photographer. While current trends tend to be geared towards couples being photographed 'voyeuristically', remember to get at least one photo of the two of you looking at the lens. Even if you don't want to print it, your loved ones might, especially grandma!
---
NOW GO AHEAD, PLAN AND ENJOY!
This bears repeating….ENJOY! Being engaged is an incredibly special time – you glow from the inside out with the anticipation of your beautiful wedding or elopement that is planned. I say to couples that expression overrides clothing, it overrides location, it overrides everything!
The photographs that people love the most? The ones that have the genuine emotion and smiles, we can all spot the forced smiles.
So lighten up, listen to your professional photographer and ultimately be YOURSELF.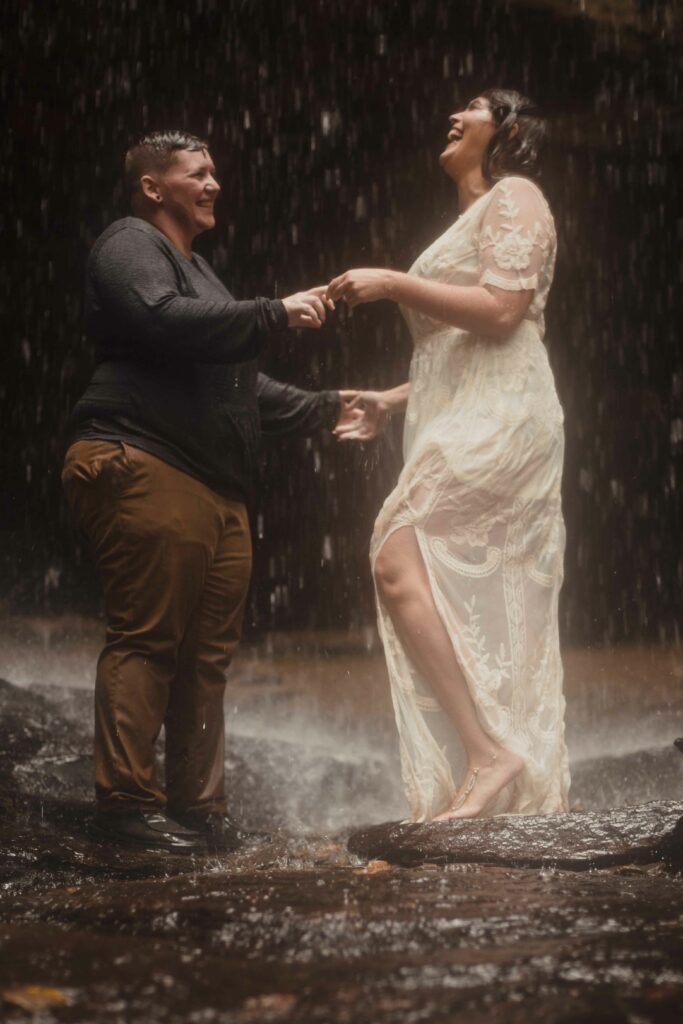 I'd love to know if you have found this useful? Connect with me at: natasha@natashadalephotography.com
---