Estimated reading time: 1 minute
 You're engaged & looking for a wedding photographer. What should you ask?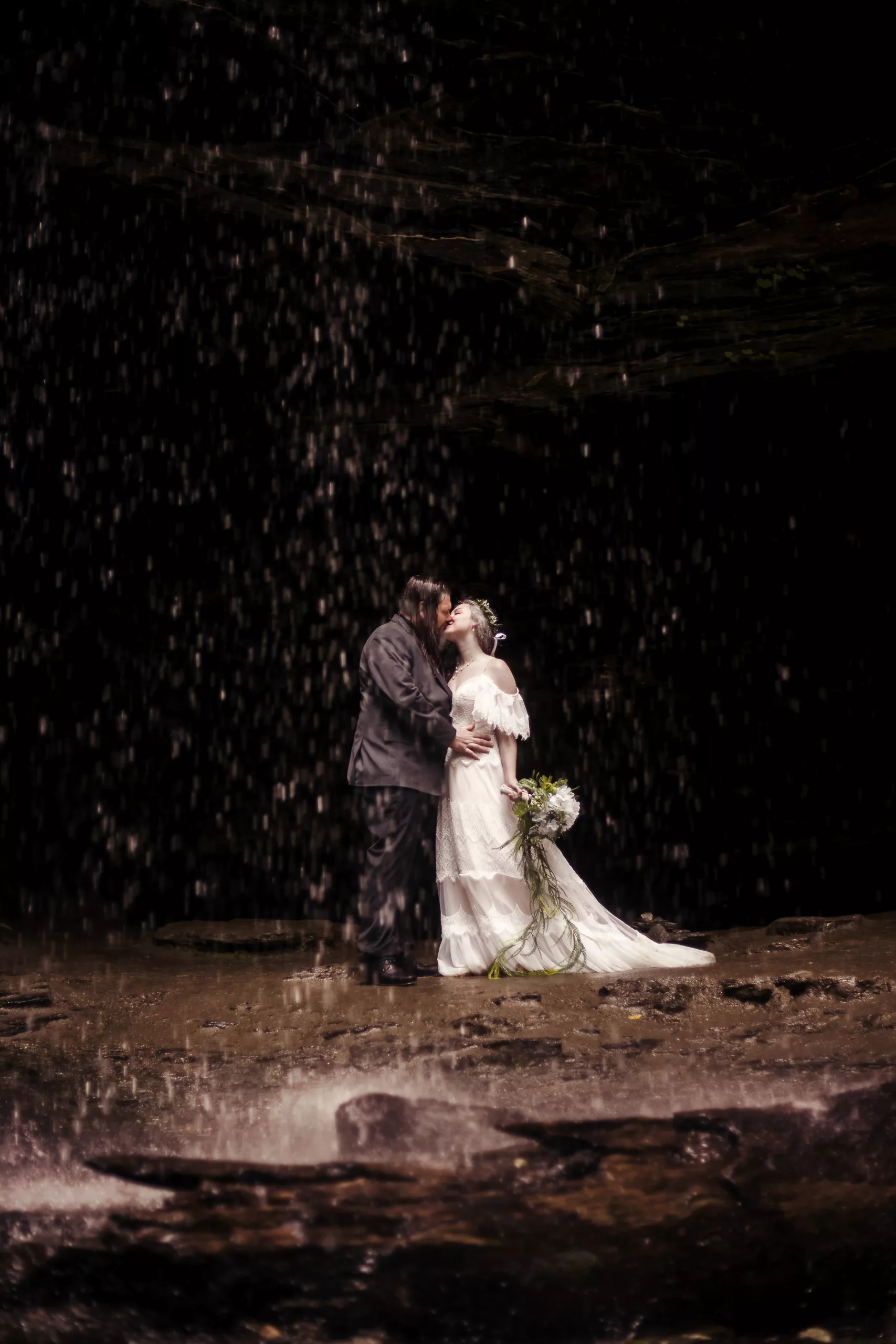 Pisgah National Forest, NC
You've started planning – great!
Whether you are opting for a simple Blue Ridge Parkway elopement or a full-scale luxury North Carolina wedding, this article will help with photography planning. Below are questions that Natasha Dale Photography gets asked (a lot). It's a daunting task choosing your wedding photographer, please feel free to reach out with further questions. 
10 questions to ask your photographer!
 1. Can we arrange a video chat?
Yes! Getting to know the photographer and their personality is probably the most important thing to do before signing a wedding contract. It's key that you gel, in order for natural emotions to be captured on the day. Ideally, you want to connect with your photographer, they will be with you for a very important day!

If you are an outgoing person but your photographer is timid, it might not be the best fit. They might have mad skills in capturing photo-journalistic shots but not feel comfortable directing group shots or bringing out the best in you. Genuine emotions get brought out when you are in sync with your photographer, personality is actually more of a factor (in my very humble opinion) than what gear they have!
2. How much of your portfolio is made up of 'styled shoots' versus real weddings?
Photographers (myself included) tend to upload the 'best of the best'; I mean who wouldn't want to show off their best work? However, consider asking potential photographers for access to a recent full album, if you can't see one on their website. A website could be full of magical images but little to none from a real wedding. Just because someone has an amazing website/social media feed doesn't mean that they have valuable 'real wedding' experience.

Styled shoots are magnificent (and I am all for them) but think about it….everything has been curated to look magical. From the wedding couple to the attire, location, florals, hair and make-up, you name it! A group of incredibly talented vendors came together to showcase their services, which will look highly editorial and curated.

If it looks like it's from the cover of a magazine, either you have chosen an incredibly talented photographer (kudos to you for that) or it's from a styled shoot. The concern here is that you want to ensure that the style that you have fallen in love with, can be replicated on your day.
3. What's your style?
By now, you should have a good idea of their style but if it's not obvious – ASK! Are they photo-journalistic, dramatic, modern or traditional? Some photographers are not comfortable with family formals and organizing large groups, instead they specialize in elopements.

If you're looking for someone to photograph your family at a luxury Asheville wedding but their portfolio is mainly made up of Blue Ridge Parkway mountain elopements, they might not be the best fit for your needs and vice-versa.
4. Are you a natural light photographer? 
This is important if you are holding your ceremony indoors or your reception continues into the night. The camera can only take you so far when working with limited light.


Many photographers work only with natural light (which isn't a bad thing!), others are familiar with having a flash placed on their camera and then a smaller amount love working with strobes and off-camera flash to create dramatic effects. N.B. – most churches will not permit flash photography and the photographer will have little choice but to use just natural light.
5. When can I expect delivery of my full gallery?
Most photographers average a 4-16 week turnaround time for album delivery and offer a sneak-peek within 48 hours. Let your photographer know if there is a need for having photographs delivered sooner, they might be able to accommodate your request subject to a rush fee.

There is a LOT of work that goes into delivering a full album so please be patient with your photographer. From uploading to culling to editing to fine-tuning, it takes time. The longer the wedding coverage, the more photos there are to go through!

Many photographers opt to just photograph and then send the photos to a 3rd party to be edited. Whereas others (in particular small business owners) do everything.
6. How will you deliver my gallery?
Luxury photographers tend to offer digital prints but also require 'In-Person-Sales'. This means that they want to carefully curate the album with you and help you to choose photographs that will go into your printed album. They might include a full printed album within the price or you are required to pay for each photo that will go into your final selection.

If you choose a photographer who offers a credit towards an album, make sure that the credit actually covers the cost of one; or expect to pay more when you sit down and curate your album.

There are photographers who deliver digital albums only but can assist you with selecting photos for print (fee may apply) – this is the preferred option of mid-range photographers. Typically, you can expect to download your photos full size (best for printing) or web size (best for sharing).

Finally, there are photographers who opt to share photos on a USB.
7. Do you offer bridal portraits?
This is your opportunity to make sure that solo shots of you looking absolutely amazing are captured. Dependent on your photographer, a bridal portrait session could be interpreted as a time when you visit their studio (with wedding dress & hair and trial wedding make-up completed) for a formal photo session.

Others will see this as time on your wedding day to carve out 30 minutes (usually in advance of the ceremony) to capture photos so beautiful that can be hung as wall art. This is an important time for a bride, you will never be able to recapture the glow that you have on your wedding day so make sure that you get solo shots!
8. Do you offer detailed editing/skin re-touching?
Take a peek at the photographer's website and see how many close-up shots there are. Are they mainly 'environmental' shots and have raw emotion? Or do they highlight bridal portraits as a feature?

This could indicate the photographer's preference of editing and whether they like to offer this service. A lot of photographers offer color toning & correction and do not venture a whole lot into additional editing applications. There is no 'right or wrong' just have realistic expectations what you will receive from your photographer.

Detailed editing (e.g. photoshop) is a time-consuming and skilled job, check with your photographer what is included and if it's not included, can they offer it at a fee? They might refer those photos to a 3rd party to complete the editing on their behalf.

In my experience I have found that almost everyone requires at least a little re-touching, particularly for close up portraits. We're human, not mannequins, which means that we have breakouts and sleepless nights etc! Make up is a huge help but gets us only so far. This type of editing takes skill and time, otherwise it can scream "I've been photo-shopped!".
9. Will you send me bridal/groom guides and information to help me?
This can make a wonderful addition to your wedding planning. Many photographers invest immense time, energy and years of experience into creating guides for wedding couples. This is a huge benefit to the bride/groom and prevents hours and hours of scrambling around on the internet to find answers! Plus it highlights the professionalism of the photographer that you have chosen.
10. How many photos can I expect to be delivered? 
The majority of photographers deliver between 50 and 80 edited photos per hour. Some will state a minimum number, others will give you a range. Natasha Dale Photography errs more towards quality than quantity. For an 8 hour wedding, you can expect to receive between 400 and 700 images.
---
10 Questions to consider skipping!
1. What camera/gear do you use?
You're hiring the photographer based on their aesthetic not the gear that they use to photograph you with. This is really only a question that a photographer might ask or a "gear-nerd" but seriously – don't. All that you need to know that is that they have a camera and a back-up camera – just in case.
2. Have you shot at my chosen location before?
I get it – you want someone who is familiar with the wedding venue that you have chosen, this gives you a sense of ease. However, this should not be the determining factor in whether you choose a photographer or not.

A good photographer uses light to create magnificent images and doesn't rely just on knowledge of the location. A GREAT photographer turns up way in advance of the shoot start time and checks out the light. They will use an App such as Sunseeker to check where the light will be throughout the day and how to use it.

There are so many variables and factors (think weather and lighting) that come into play on the day. I've photographed several weddings at The Biltmore Estate but every album is different. This is all down to the time of the wedding, the weather, the season, the light…you name it!
3. What will you do during the reception dinner, will you be working, I mean we're paying for that time!?
OK – time to cut your photographer some slack here. They might be resting up after a long day and then waiting for evening celebrations to begin. Just like you, they need to eat, drink and refocus. Plus nobody wants photos of other people eating! When they're sat down, they're recharging their batteries (theirs, not the camera's!) or working out the best evening plan.
4. We're not hiring a planner, is it OK if our guests come to you with questions?
If there are no other professionals in sight (day of coordinator, planner etc), it's only natural your guests might see the photographer as the person to ask questions. Please don't do this! The photographer works best when they can do their job and remain focused on the wedding couple and the day.


If you are opting to not hire a planner, make sure that you have designated really organized family or friends to take on certain roles on the wedding day. The photographer should be focusing on what they do best: capturing great photos of you. Please, don't take it all on yourself, this is your day, you want to enjoy it, not stress over timeline & checklists.
5. Can I have access to the RAW files?
99.9% of photographers will have a hard 'NO' as their answer to this. Alternatively, a minority will allow you to buy the RAW files for a one-off fee. Beware, it will not be cheap! The Photographer is giving up full creative license if they do this and so it comes at a steep price.


You have hired the photographer for their skills, not only to take and compose the shots but to edit the photographs. I liken this to buying a pizza that is already made and cooked, to one where you have all of the raw ingredients in front of you and you need to create it from scratch. You wouldn't expect a pizza restaurant to hand you the ingredients & make your own pizza, ditto with your precious photos!
6. Can you just edit out my suntan lines?
This falls into the realm of detailed editing and encompasses everything from suntan lines, blemishes, unwanted tattoos, marks and cuts etc. Every photographer wants to bring out the best and make you feel and look like a million dollars. They want to deliver an album that you'll be thrilled with.

However, if you get sunburned or suntanned etc. a few days prior to your wedding, that requires a lot of work on the photographer's part. A great photographer will never shame you and make you feel bad about skin concerns. However, they will likely need to up-charge you for extra editing that you might want completed (unless you have come to a prior agreement with them).

Typically, an album is delivered with tonal and color correction complete and then the wedding couple would decide which extra photos need further enhancement. Save yourself some cash & stress and watch out for these things in the run up to the wedding (and hire a great make-up artist!).
7. Can you change your editing style for me?
You know how this one goes…you love the way that they photograph people but you're not keen on their editing style. The majority of photographers will fall into camps of: dark & moody, dramatic, light & airy or realistic/true/minimal editing. All of these styles are legitimate in their own right and 'usually' a photographer falls into one camp but a few like to create multiple styles.

For more natural photographers, the light on the day will dictate the style of photos that you will receive. i.e. if it's thundering and raining, you can't truly expect a 'light & airy' gallery of images. Stick with a photographer whose style resonates with you.
8. Can we allow our guests to take photos during the ceremony?
This is probably the single most (preventable) stressful thing to happen to a wedding photographer.


Imagine…the wedding couple looks divine, they have tears rolling down their cheeks and you are trying to capture this magnificent moment. Yet, all that the photographer can see is a sea of hands holding smart phones: blocking the view.

Communicate with your guests that you have hired a professional to capture the moment and that your guests are there to simply enjoy the day. The photographer can help you with how to inform guests in a tactful manner that you've opted for an 'unplugged ceremony'.

One great idea, is to allow your guests an opportunity to take 30 seconds of photos of you before the ceremony begins. They don't feel like they've been left out and it works for all!
9. Where are the "missing" photos?
No doubt, you've looked at the sequence of file numbers and can see that there are photos missing. Your photographer is a skilled professional and will have selected the best of the best for you to see.


They will have culled out duplicate shots, unflattering shots and ones simply where people have their eyes closed. This happens. A lot. So trust that your photographer would want you to have all of the great photos that were taken on your wedding day. Some just didn't make the cut.
10. I've saved photos on Pinterest and have a specific shot list for you: can you replicate them?
Pinterest is a wonderful resource to use for inspiration. Replicating the work of someone else is not only tricky, it also runs the risk of breaking copyright rules. Photographers like to look at what inspires clients and then put their own spin on the shoot. Everyone loves unique photos!

Shot lists are for things like "Family Formals", so that the photographer knows who to photograph on your day, they are not to replicates "poses". Instead, tell your photographer what it was about the Pinterest board that excited you: was it the emotion, the lighting, the landscape etc?

Feel free to provide a list of inspired shots to your photographer, but don't expect them to work off of a specific shot list, if you want them to be creative on your day.
---